The growth in the usage of smartphone and mobile apps has made developers and marketers interested in using this new marketing channel or even producing an entirely new independent product. There are many reasons why everyone cares about mobile these days. Can you believe that mobile app usage has exploded by 76% in the past year?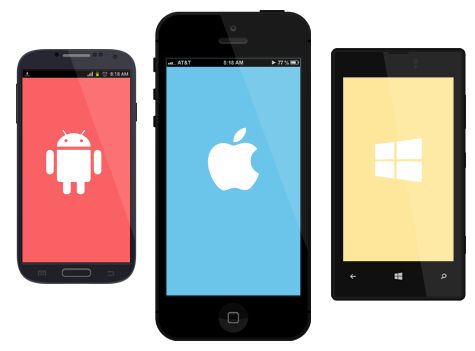 "How much does it cost to make an app?" is the number one question developers and marketers ask themselves and Google when thinking about their mobile strategy for the first time. Oddly enough, this topic is even more mysterious than the actual revenues developers can potentially make out of mobile apps. I'd like to clarify the situation a bit and show you the most interesting statistics along with my experience.
Many marketers assume it's too expensive to produce a mobile app. A small number have heard about easy-to-use mobile app builders and think they can make one for a very low cost. Both points of view are extreme.
Individuals and some marketers frequently opt for mobile app builders. The pricing starts from $10 a month and goes up to $1k a month, while you can also buy yearly plans. What exactly do you get? Don't let the "no coding skills required" promise mislead you. Cheap mobile app builders are nothing but a range of templates, and the maximum customization you get is choosing the color and changing the text above and under each of the fields and blocks. Although this type of solution may work great for small local businesses and individual users, they are actually a waste of time for the majority of businesses for several reasons.
Mobile App Builders
First, a cheap template won't let you add or remove components according to your needs. Second, although inexpensive mobile app builders promise to grab all your information from your social network pages, website and blog, at the end of the day, this mix looks awful. A poor design that is not suitable for your brand content, along with the ugly layout of this content on the app pages, results in something you really don't want to be published on the App Store. Besides, if users think they have seen a very similar app somewhere else, you may lose your identity and brand reputation. Are you sure you want this? These apps can work for in-company usage, but you won't be able to add custom functions that are connected to your business processes.
Expensive mobile app builders that cost up to $1000 per month (with many cool add-ons) imply broader customization and a larger set of templates and designs that can actually make your mobile app unique and allow it to stand out. However, there is another problem: if you don't have basic programming skills, you are likely to be unable to customize everything by yourself without the help of an IT specialist. If you have a qualified developer on your team, these mobile app builders will work just fine.
You have to do your homework carefully before making a purchase, because basic and even pro packages are frequently inadequate for producing the app that you really want. After you've bought the subscription, you may have to pay for many additional elements, so the cost climbs and you feel confused.
Modern mobile app users have very high expectations of mobile apps. The reason behind the enormous growth of social network apps and some games is that they are frequently updated with new content or levels, so that the user is always engaged (sometimes with the help of push notifications). However, instead of working on content updates, the majority of mobile app publishers concentrate on attracting new users to their app, which is a lot more expensive than working with an existing base of clients. The users who have tried your app at least once and liked it, are much further down the decision-making funnel than you think. They are more likely to buy from you again and recommend the mobile app to their friends. What I mean is that you need to work on updating your app content to retain the loyal users who open the app daily or at least weekly. That is another reason why static templates won't work for you: they don't support content and version updates.
There is another drawback of mobile app builders: cheap packages don't help you to publish on the App Store or Google Play, so you'll have to do this all by yourself. And if you don't have the experience and you make a small mistake, you won't get approval from the app markets. This is really tough, since even experienced app publishers often have to resubmit a mobile app several times before it is accepted. Once again, you still need an IT specialist right beside you.
Mobile App Developers
Let's pass on to hiring technical specialists to develop your app. The process is similar to hiring any other freelancers or full-time specialists. However, you need to know just a few things. First, don't ever work with teams that you can't meet in person. It's just plain hard to explain your business needs and goals behind the app to a remote team of professionals. Second, read the contract carefully. Mobile apps need maintenance, bug fixes, content updates and new versions. Are all of these covered by your agreement? Think about the iOS, iPad, Android and Windows versions of your mobile app. Do you need all of them? Which ones are the most important for your users? Are they all covered by your contract?
The essential thing here is that you need to learn a bit about the team members too. Is one of them a good mobile app designer? Are the web developers experienced? How fast do they fix bugs? These are the most essential questions you need to ask. And look at their portfolio of published apps. It would be unwise to forget about your mobile app for a while and delegate everything to the team. As a customer, you need to take on the role of product manager: this includes deciding the purpose of the app, drawing mockups, explaining the most desirable pattern for the customer journeys inside the app, approving the design and controlling the publishing. You have to know when the mobile app will be released so you can start publishing press releases and monitoring social media for mentions. Your technical specialists can then do their job without working against your business goals.
---
Image 1 source: Web Expanders
Image 2 source:  clement127 / Foter / CC BY-NC-ND
Image 3 source: Publ.com blog